Organizations that employ drivers have a responsibility to ensure those employees are equipped with the highest level of skill and knowledge when it comes to: handling their vehicles, understanding the use and limitations of vehicle safety technologies, safely carrying loads and managing external influences effectively.
A meaningful model for driving excellence is based on a comprehensive driver safety study performed in Europe by the University of Turku Traffic Research Department.
Self -- Goals for Life and Skills for Living
Becoming self-aware: managing risk and safety factors as a Conscious Competent. The hierarchical view stresses the importance of personal motives, tendencies and social relations of a driver in a broader sense. That includes personal facts such as self-control, as well as life-style, social background, gender, age, group affiliation and other preconditions that have an influence on attitudes, motives, choices and behavior as a driver.

Decision Making -- Goals and Context of Driving
An organized thinking and acting process underpins the ability to safely operate a vehicle. Effectively dealing with complex traffic variables, avoiding personal risk triggers, even decisions in choosing a low risk route require continuous focus and best option decision making. Understanding and consistently comparing best practices with real world experiences increase drivers' ability to make timely, practical decisions that produce successful outcomes.

Situational Awareness -- Mastery of Traffic Situations
Drivers must be able to perceive and predict what other road users will do, but also make his/her own behavior predictable to them. Proper use of vision, maintaining defensive safety zones, positioning within traffic to provide incident avoidance escape routes, knowledge of traffic rules and behaving accordingly are important competencies to master on this skill level.

Competent Vehicle Control -- Basic Knowledge and Skills
Automatic execution of maneuvering tasks is crucial for safety. The more conscious effort a driver has to put into basic maneuvers, the less capacity is available for coping with sudden, maybe dangerous events in a driving situation.
In the driver excellence chart, vehicle control is presented as the foundation for attaining driving excellence; however, history shows most drivers have built this foundation with their self-taught post-licensing driving experiences. It is critically important for fleet operators to assure that the performance levels of their drivers are derived from successful, proven safety practices. Anything less shows up in increased crash frequency, employee turnover, increased health care costs, lost time (or worse), and lawsuits.
To continue improvements in driver safety performance, employers must also provide opportunities to learn, practice and perfect capabilities in:
Situational Awareness
Sound Decision Making
Awareness and Understanding of At-Risk Behaviors and Attitudes
To achieve levels of excellence, fleet drivers should regularly engage in advanced performance driver safety training and coaching. Various factors can determine the types of training and coaching in which drivers should participate. Factors can include job tenure (e.g., new hires are traditionally a high-risk group), geographical conditions, vehicle types, and driver risk categorization based on traffic violations, telematics, crashes, etc.
As recommended by the Network of Employers for Traffic Safety (NETS)1, all drivers in an organization should be cycled through a combination classroom and behind-the-wheel (BTW) courses to ensure that their driving capabilities (vehicle control, defensive operation, situational awareness, and more) are brought up to solid safety performance standards. NETS also recommends that drivers receive similar refresher courses every two years or perhaps three years if the behind-the-wheel course is supplemented in subsequent years by e-learning in order to maintain performance at the highest levels.
Other training methods can be introduced to augment performance and address particular safety issues or increased risk levels. A few examples include:
Online, topic-specific driver safety lessons (e.g., speeding, rear-end collisions, backing and parking, etc.)
Online micro-lessons (Three to four-minute safety tips)
Safety communications
In addition, tenured drivers' performance should be monitored so remedial training or corrective actions can be assigned if a deteriorating trend or jump in risk level is observed. Sources of risk data can include traffic violations, crash reports, telematics, fleet safety compliance infractions and more. Going further and equally important is the ability to perform driver assessments. Some examples of this are ride-along reviews and online skills, behavioral and psychometric evaluations.
The following is a case study that reflects an employer's journey as it introduced its first formal fleet safety training policy. The early success of their efforts, which initially included only new-hire and high-risk drivers (as ascertained by crash and traffic violation data), was so significant that the company revised its policy and mandated all employees driving a company vehicle complete a one-day, BTW safety course. The result was a significant return on the investment made. A program of continuous training remains in place so that drivers' skills and attitudes toward safety remain high.
CASE STUDY: 5,000 DRIVERS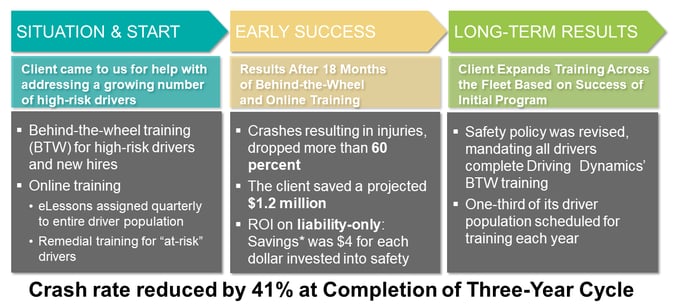 *Does not include other crash-related costs such as vehicle repairs, lost productivity, etc.
There are many training protocols and risk assessments which can be implemented to improve drivers' safety performance and lower a fleet's crash rate. Fleet operators need to determine what fits into their culture and budgets, implement a plan that connects risk-level identification with the proper training assignments, communicate the company's plan and commitment to safety, regularly reinforce this message, and proactively adhere to the process outlined in the company's driver safety plan. Fleet operators can further benefit from implementing resources that automate oversight and compliance with their driver safety plan including a collection of driver risk data available from multiple sources. In many cases better efficiencies can be found from leveraging the services of safety and risk management providers that specialize in this field. Following such a plan saves lives, keeps families whole, protects an employer's reputation, and can lead to a significant return on the investment.
1 NET's Guide to Driver Safety Training™