Driving Dynamics Inc., a provider of advanced performance driver safety training, coaching and risk services for organizations that operate vehicle-fleets in North America and around the globe, has announced the open enrollment format of its foundational skills-based driver safety program will resume with a phased roll-out starting in June. The DriveReady Advantage™ (DriveReady) course now includes heightened safety protocols, format changes and new virtual options to adhere to social distancing guidelines and accommodate policy mandates and comfort levels of its customer base.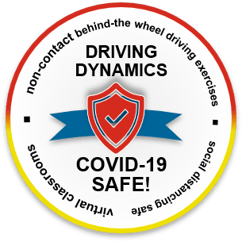 The course, designed to help drivers acquire competencies in advanced crash avoidance techniques and vehicle control, traditionally consists of onsite mobile classrooms co-located with driving exercises. With the restart of the DriveReady program, it has been divided into two separate segments—an instructor-led virtual classroom session and the in-person, no-contact behind-the-wheel session, with new add-on technology-based components to help maintain personalized training at a distance.
Virtual group classroom and add-on options – Starting in June and for the balance of 2020, the open enrollment classroom segment will be offered as an instructor-led virtual format. Students are required to complete this virtual classroom training before attending the driving exercise segment. In addition, the company has developed new technology-based offerings that can be added to keep drivers engaged in their safety behind-the-wheel:
8-Week 'Stay Safe' e-Lesson package

60-minute, one-on-one online driver safety coaching

Smartphone-based driver safety telematics application
Non-contact behind-the-wheel session – During onsite driving exercises, Driving Dynamics has long used FM radio transmitters to communicate with individual students inside their own vehicles. The company will continue to use this communication channel which supports safe social interaction while instructing drivers. Non-contact measures in place during this segment are as follows:
Students will remain in, or stand beside their own vehicles, and only their vehicles

Instructors will keep a six-foot distance between themselves and students, and assure students also adhere to guidelines

Instructors will give directions using FM radio transmitters and communicate through open windows
"Traffic fatalities in March were up 14% over the same period last year according to the National Safety Council," said Art Liggio, CEO and president of Driving Dynamics. "As stay-at-home orders slowly lift, these numbers will likely get worse. As a consequence of COVID-19, companies will be pushing to make up for lost revenue and drivers will be feeling pressured to make one more delivery or sales call putting themselves at risk of a crash. The adaptations to our flagship behind-the-wheel course and the various training paths offer fleets the highest quality standards and results while assuring the safety of their drivers remains of utmost importance both socially and behind the wheel."
In the coming weeks Driving Dynamics will publish an updated open enrollment schedule with all the new modifications in place and will continue to re-evaluate the climate and viability of adding more behind-the-wheel training dates as restrictions are lifted and training venues become available. The company will offer both onsite and virtual classes in conjunction with driving exercises through its employer-dedicated format.
Request more information about how DriveReady has been modified to respond to the environment caused by the current health pandemic.