Believe it or not, most motorists on the road today are Unconscious Incompetents. What does that mean? In the case of driving it refers to individuals who unintentionally put themselves at risk because they are unaware of the consequences of their actions while driving. Common examples include speeding through a yellow light, rolling through stop signs, or weaving in and out of traffic. If an individual never faces any repercussions as a result of these actions, their habits will eventually be hard-wired into their everyday driving style.
Unconscious Incompetents to Conscious Competent.
In an attempt to eliminate similar risks and improve driver behavior overall, millions of dollars have been invested to update safety policies, initiate communication campaigns, leverage telematics and adopt vehicle driver assist technologies. Yet, national crash statistics continue to show that, in general, this effort has barely made a dent in lowering incident rates. The only way to induce change is to shift drivers from Unconscious Incompetents to drivers who understand and conduct safe driving skills – also known as Conscious Competent. To understand how to achieve this awareness level, first, we need to look at the root cause, which is misguided self-directed learning.
Many individuals may have worked with a driving instructor when they were younger, learning how to operate a vehicle in order to pass the state driving test. Once the course was completed and the drivers licensed, those students hit the open road and typically, through a process of trial and error, drivers slowly challenged the boundaries. Late for school or work? Speed. Stuck in heavy traffic? Aggressively maneuver the car around other vehicles to save a few seconds.
After countless times of being fortunate enough to avoid any serious incidents, drivers have unwittingly trained themselves to manipulate the rules of the road, increasing risk to unacceptable levels. With years' worth of damage to undo, how do fleets tackle this underlying mindset that has already shaped drivers' performances?
---
"...Drivers have unwittingly trained themselves to manipulate the rules of the road, increasing risk to unacceptable levels."
---
Make no mistake about it, risk data, telematics, policies, etc. are incredibly valuable and needed for sustainable safety programs. But as of today, receiving risk information through an impersonal data stream is not disruptive enough to create a motivational desire to change. Behavioral psychologists will point out that for drivers to achieve self-actuating, personal awareness of why and how they are at risk requires participation from the individuals themselves.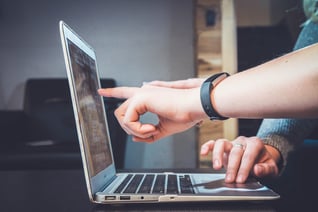 One of the proven tools that help a driver to self-identify risky characteristics is a behavioral psychometric self-assessment. These online driver risk assessments, which focus on key driving dimensions, are effective and easy to deploy. The questions encourage drivers to provide an actual reflection on how he or she acts and reacts to various situations. Within minutes of completing the questions, drivers receive immediate feedback and have the insight needed to identify which of their driving tendencies are prone to elevating their risk level. In turn, it accentuates positive traits. After many years of driving as Unconscious Incompetents, individuals can be presented with objective facts in a non-confrontational manner to understand how they actually perform behind the wheel.
By making drivers active participants in this discovery process, it allows individuals to feel connected to the analysis. The results are personalized, very relatable and clearly illustrate risky habits. The key element for this approach is that through this participation and validation, the feedback creates understanding, awareness of consequences and leads to behavioral changes based on internalized, motivating factors, not deficient external influences.
Driver risk assessments are used by leading fleet operators including Chicago Transit Authority, Shell, Greyhound and Mercedes. In many cases these tests are used as a pre-hiring screening tool as well as part of an ongoing safety initiative to keep drivers behaviorally healthy. In addition to your other driver safety programs, assessments can be implemented as a supplemental resource to help you identify Unconscious Incompetents and keep your drivers involved in their own safety.
Isn't it time revamp and add another effective tool to your safety toolbelt so you can develop a fleet full of Conscious Competents?