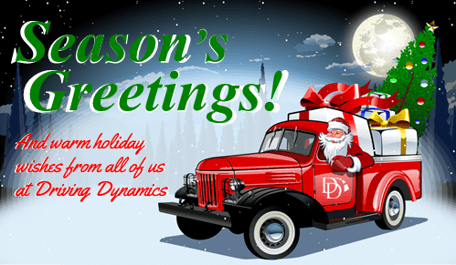 Santa's sleigh ride is famous for sure, But this year there's a twist that offers much more. The start is familiar, but the ending is new, So, buckle up for a tale made just for you… 'Twas the night before Christmas when panic set in, And Driving Dynamics got a call from a friend. Mrs. Claus phoned the team about an elf that's been bold. And that's how this story of helping Santa unfolds… "

Santa my darling,

" said Mrs. Claus, with a calm grin,
"The elves were out earlier, joy riding again.
Now the sled's beaten up and the reins a bit stuck,
So, for this eve's night ride, you must take the truck."
"I called Driving Dynamics to teach all you need to know,
Named a top-20 safety training provider, four years in a row!"

So straight away Santa enrolled in class called DriveReady™ He knew it was the smart thing to do, to drive safe, sure, and steady. Although this year's a bit odd because we must keep social distance, Driving Dynamics was prepared with virtual assistance. Mrs. Claus said

"Santa dear it's easy, this class you will like.

Just log into Zoom then mute your mic"

He did just that without skipping a beat, Putting on headphones while taking his seat. First thing to do, the instructor explained, is check out your ride, Look over and under and around every side. When driving in winter, clear snow from windows and lights, Off the hood and roof too, so as not to impede sight. Keep two hands on the wheel, at nine and three. You'll have better control, just wait and see! To avoid road rage and rear-end collisions, Maintain your safety zone and make good decisions! Driving a truck is not like steering your sled, And if you don't do it right, the results you could dread. By practicing proper looking, steering, and braking skills, Your trip will go smoothly, without any spills. Don't tailgate, don't speed, keep your eyes on the road. Be careful because those presents add quite the load! To slow down safely, don't pump the brakes, Simply 'stomp' and hold for heavens sakes. If you're stuck in the snow, turn your wheels, but don't spin, You'll just dig yourself deeper and get stuck again! This new truck is fancy, equipped with the latest advanced driver assist, To stay in control, you must learn these systems, on that we insist. Keep your cell phone handy, but don't call and drive. And never text while steering to assure you safely arrive! To monitor his driving all through the night, Santa downloaded the app called DrivActiv iSight™ Mrs. Claus said.

"It will help you during the ride",

Like an elf in your pocket, your own safety guide."

And to keep his skills sharp, Santa thought the best thing to do, Was also take a DrivActiv eLesson™ or two. Santa stood up and placed is hat on his head. Feeling proud and sure for listening to all that Driving Dynamics had said. And the elves in their masks, standing six feet apart, Helped load the toys in the truck to give Santa a quick start. He buckled his safety belt and adjusted the seat, While revving the engine, He exclaimed,

"Thank you, Driving Dynamics, It has been a real treat!"

And down the road he drove on that dark starry night,Santa in a red pickup, oh what a sight!
Copyright Driving Dynamics 2020