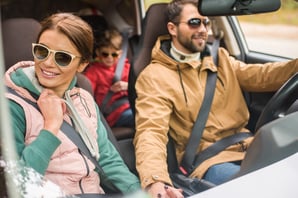 For most of my adult life, I've been a huge fan of Frank Sinatra's music. One of his big holiday hits is a song written by Sammy Cohn and Jule Styne called the Christmas Waltz. One of the themes, "It's that time of year," kept playing over in my head. While the song is a romantic offering, these lyrics resonant with me for much more serious reasons.
We're about to kick off the season with the arrival of Thanksgiving. Of course, as a fleet safety professional, I'm also acutely aware that it's that time of year, when we unfortunately experience some of the worst crashes and traffic fatality statistics.
Between Thanksgiving and New Year's, estimates project that more than 100 million travelers will take to the road. The heavy traffic load coupled with winter weather and boozy celebrations make it a potentially dangerous time to be driving. According to the National Highway Traffic Safety Administration, the number of traffic fatalities increases by approximately 25 percent and injuries are in the tens of thousands during the holiday season.
Here are some tips to keep in mind as you prepare to hit the road:
Check your vehicle. A well maintained vehicle is a much safer vehicle, especially in poor weather conditions. The lights, oil, tires (condition and pressure level), belts and hoses, brake fluid, antifreeze fluid and the condition of the battery should all be checked by a professional before getting on the road.
Plan ahead. Determine your route in advance and check traffic reports and weather conditions before starting your trip.
Pay attention.

Be alert to road conditions and safety warnings.
Slow down. Follow speed limits and remember excess traffic and congestion on the roads may mean you'll have to travel below posted limits. It also takes 10 times longer to brake on icy or snowy pavement than it does on dry asphalt.
Drive defensively and don't respond to aggressive drivers. It's far less frustrating to let an aggressive driver pass than to become aggressive yourself.
Get rest.

You may be in for a long drive so a good night's sleep before leaving can help make the trip more enjoyable. Be sure to take regular breaks during long road trips as it can be very dangerous to drive when overly tired.
Stay free from distractions.

There is not much you can do about kids constantly asking:

"

are we there yet," but leave the phone, food, and other distractions alone while behind the wheel.
Prepare for emergencies.

Keep a blanket, boots, an extra pair of gloves and a flashlight in the vehicle. Traction mats, kitty litter or sand can be used to improve traction on icy surfaces. Also, keep the gas tank at least half-full to prevent fuel line freezing in colder weather.
Stay sober.

Be smart. Don't drink and drive. It sounds easy enough but the reality is that during the holidays, a significant number of crash fatalities are a direct result of drunk driving. Don't become another unnecessary statistic.
Last but not least - relax. While driving during the holidays can become stressful, don't allow circumstances to dictate your actions. Frustration can lead to poor decisions and risky behavior behind the wheel. However, with the right attitude and some pre-planning it can also be more enjoyable.
This time of the year might be the most dangerous driving period, but it doesn't have to be if you prepare and follow the rules of the road. Planning ahead and remaining vigilant behind the wheel will allow everyone to enjoy a safe and happy holiday season.
Happy Thanksgiving and Seasons Greetings from the Driving Dynamics family! Arrive safely and enjoy this special time of the year with your friends, neighbors and loved ones. -Art
---
Address the underlying contributing factors of the most prevalent loss types in your fleet and provide practical solutions for avoidance with targeted online training. Learn more about DrivActiv eLearning™.